Star series self-ligating brackets is a new product of collaborative effort between Shinye's R&D centers in China and US. As a high-quality and cost-effective SLB, Star series will provide the patients efficient tooth movement control and remarkable clinical results with pleasant orthodontics experience.

STABILITY & RELIABILITY
High stability due to advanced manufacturing technique .
Patented self-ligating structure designed by Shinye US R&D center for no wire escape problem.
EFFICIENCY
Fixed T-Top crimpable ball hook design for treatment protocol simplification, while avoiding elastic fall-off.
Larger mesial and distal chamfers effectively reducing the frictional force.
EASE OF USE
Obvious central axis design facilitates easy clinical brackets positioning operation and saves bonding time.
COMFORT
Highly surface finish produced by advanced polishing process, effectively avoiding damage to soft tissue.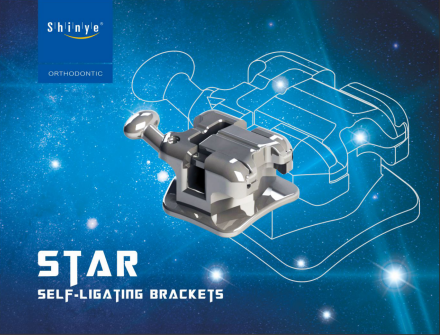 Contact us:
Tel:86-0571-58102878
Email:sales@shinye-ortho.com